Michael Pick recently wrote an in-depth review of The News Room concentrating on how you can use its news video feeds to make money on your website. Taking a closer look I found a few faults with The News Room's payment structure.
As you can see in the picture above it says that you can earn $4 CPM rate for video feeds. CPM basically means "cost per 1000 impressions". But does it mean that 1000 impressions of the video feed box (shown below) will earn you $4 or every 1000 views of an actual video, i.e users have to play a video for it to count towards the 1000 impressions.
The News Room does not allow you to track your earnings. So at no point can you actually see how much you have earned. This is very frustrating for anyone expecting to earn money from The News Room.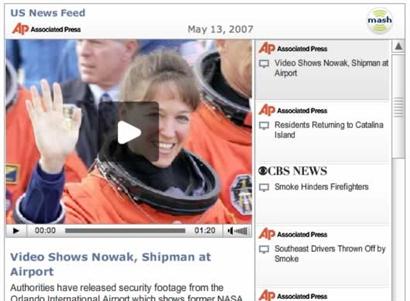 So I Asked The News Room…
Aastha Verma, the Director, Product Management of Voxant (that's the company behind The News Room) answered the questions for me:
"The CPM is based on the "view" of the videos, text or images, not based on who mashes from your site. We do have a tiered system so that an incremental "bonus" is received when people do mash off of your site onto their sites.
A "view" occurs when a user clicks "play" on the video or when a text article or image is rendered…for example, if 100 people come to your site and click play, you will have registered 100 views. Since each video or text or image view is accompanied with an ad impression, either pre-roll or a banner ad, or both, revenue is generated.
Tracking the earnings is on its way in a matter of weeks, so please do stay tuned to the News Room. It will be in a "myRevenue" button on the left. Over time, we will add more granularity and controls to this feature.
Will I Use The News Room Video Feeds?
I am already using it over on Web TV Hub towards the bottom of the page so our readers can keep up with the latest entertainment news and I get paid $0.004 every time someone watches a video ($4 CPM). I'm certainly not going to get rich this way but if my readers like it and I get a bit of extra money then I'm happy.
Earning potential can increase if you pick a single news item or video that could become particularly popular. Here is an example I posted on Web TV Hub of Bill Gates and Steve Jobs being interviewed together.
A Great Way to Earn Money While Providing Interesting Videos
An entertainment site could highlight recent entertainment news, the same for a tech site, a science site or politics site. The News Room's videos are perfect for blogs in a variety of niches to highlight relevant news stories and earn off the videos.
Hopefully we will see The News Room add the ability to track your earnings very soon.
Posted in:
Have Something To Say?
---
---


Keep up to date with Web TV, Video and IPTV News:
Subscribe to Web TV Wire by Email
Subscribe to Web TV Wire via RSS