When it comes to the top video sharing websites on the internet the following websites are freqently mentioned:
So I thought it would be worthwhile to take a quick look to see just how popular these video sharing sites really are, and how their popularity compares.
I've just done this quickly using Alexa rank, its not the most accurate, but its the best we've got really. Here are the results:
| | |
| --- | --- |
| Video Sharing WebSite | Alexa Rank |
| YouTube.com | 4 |
| Dailymotion.com | 121 |
| MetaCafe.com | 138 |
| Veoh.com | 997 |
| Grouper.com | 2,856 |
| Blip.tv | 5,561 |
| Jumpcut.com | 14,392 |
| VideoEgg.com | 19,734 |
| Eyespot.com | 45,612 |
It is is no surprize to see that YouTube is at the top, but it is particularly to see how closely tied DailyMotion.com and MetaCafe.com are.
Unfortunately Google Video, AOL Uncut, MySpace video or MSN soapbox could not be represented as Alexa does not give results for subdomains (e.g video.google.com), but just the main domain.
The growth of the top 5
The graph below compares the growth of the 5 most popular sites sitting at the video sharing table. The graph covers the past three years.
As you can see MetaCafe has not seen any growth for a number of months and meanwhile DailyMotion has shot up from behind to become a serious contender in the video sharing wars, most likely because it became a bit of a haven for pirated videos.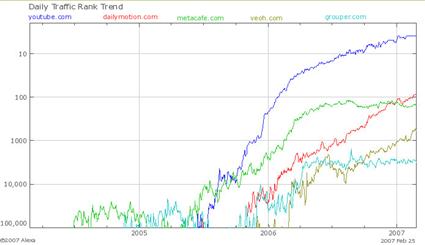 Am I missing out any of the big video sharing players here that have an Alexa rank higher than 50,000?
Posted in:
Have Something To Say?
---
---


Keep up to date with Web TV, Video and IPTV News:
Subscribe to Web TV Wire by Email
Subscribe to Web TV Wire via RSS