We know that internet video has really taken off but just take a look at the growth of some example video related sites. The growth of video sharing sites like YouTube and Metacafe are phenomenal.
Now we are also beginning to see the growth of video search engines that index video from a variety of sources. These video search engines are lagging behind the major video sharing sites, but will these search engines ever catch them up?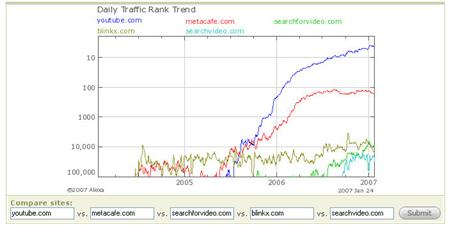 graph courtesy of alexa
The leading website for sharing and watching online video clips. The company was recently sold for $1.77 billion to Google. It now ranks as the 4th busiest site on the internet and receives an estimated 20 million unique users per month, but it could be over 30 million by now. YouTube was officially launched in December 2005 and has seen huge growth since the middle of 2006.
Read more…